2020/07/27


Special Exhibition : "Mingei Trajectory -Craftspeople Post-Expo'70-"

2020 Autumn Special Exhibition,
"Mingei Trajectory"
-Craftspeople Post-Expo'70-
Sep 5 (Sat) – Dec 13 (Sun)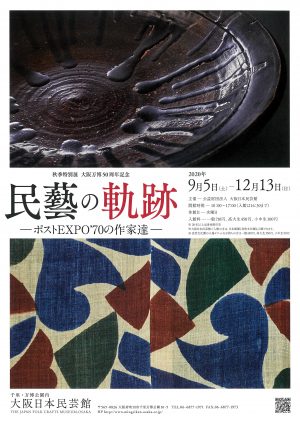 In 1970, Nippon Mingeikan pavilion (now The Japan Folk Crafts Museum, Osaka) presented the trajectory of the Mingei Movement from its very beginnings to 1970, exhibiting the antique craft works that Soetsu Yanagi had collected, works of anonymous local craftspeople, and masterpieces by well-known Mingei craftspeople.
Galleries 2, 3 and 4 portrayed the Mingei Movement as inspiring brand new creative products by displaying the works of active craftspeople and localized production centers.
The Japan Folk Crafts Museum, Osaka has continued the pavilion's policy of focusing on collecting and introducing new works by active local unknown craftspeople and well-known master craftspeople. The museum has a collection of excellent works master craftspeople in their younger days produced and were awarded for at the Nihon Mingeikan exhibition contests and the Kokugakai artists association exhibition contests.
The autumn exhibition invites you to experience the creative Mingei movement since 1970 displaying our collection of masterpieces produced by second generation Mingei craftspeople including Shigeo Suzuki, Seijiro Takeuchi, Haruki Okishio, Samiro Yunoki as well as pioneer Mingei masters, Shoji Hamada, Keisuke Serizawa and Kanjiro Kawai.