About the Museum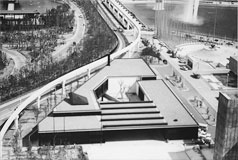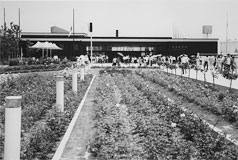 The Japan Folk Crafts Museum, Osaka is located in the cultural quarter of the Expo '70 Commemorative Park. It is next to the Japanese Garden, the Rose Garden and the National Museum of Ethnology.
The Museum was originally established in 1970 as one of the pavilions of the Japan World Exposition, Osaka. Its purpose was to introduce the beauty of Mingei to the world, with the exhibition concept of "beauty in everyday life".
Mingei is a Japanese word coined by the philosopher Soetsu Yanagi1 and his contemporaries to mean "folk craft of the people". They found beauty in everyday utilitarian objects handcrafted by anonymous craftsmen using techniques that were on the verge of being rendered obsolete and replaced by mass produced industrial goods. Yanagi et al reappraised those craft works and actively promoted new modes of use and designs for these objects.
The first director of this museum was Shoji Hamada2, one of the leaders of the Mingei movement.
Ever since that time, every spring and autumn, the Museum has been holding exhibitions about folk crafts, pottery, dyeing and textiles, woodwork and lacquer, braiding and basket weaving.
1. Soetsu Yanagi 

(1889-1961)

A philosopher of religion, Soetsu Yanagi was one of the founders of the Mingei movement. He was also one of the founders of a literary journal Shirakaba. He was moved by Korean crafts of the Yi dynasty, and by the slipware pottery of England and was intrigued by the beauty he found in everyday utensils. He advocated Buddhist ideas of beauty and founded the Japan Folk Crafts Museum.
2. Shoji Hamada 

(1894-1978)

The potter Shoji Hamada was one of the leaders of the Mingei movement. He studied at the Tokyo Higher Technical School (present-day Tokyo Institute of Technology) and at the Kyoto Ceramic Testing Institute. In 1920 he went to England with Bernard Leach and built a nobori-gama climbing kiln at St. Ives, Cornwall, where he experimented with Japanese raku and stoneware techniques. In 1931 he established a kiln in Mashiko, Tochigi prefecture. In 1955 he was recognized as a Living National Treasure and continued to lead the Mingei movement until his death in 1978.
Museum Shop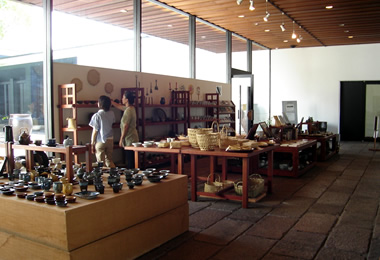 The Museum Shop features a wide selection of pottery, textiles, baskets and other hand craft items from many places in Japan.
Access
Access
Address : 10-5, Senri-bampaku-koen, Suita city, Osaka, Japan

・15-minute walk from Bampaku-Kinen-Koen Station on the Osaka Monorail
・15-minute walk from Koen-Higashiguchi Station on the Osaka Monorail
・15-minute walk from Nihon-Teien-Mae bus stop
・5-minute walk from the Nihon-Teien-mae parking lot
Hours
10:00 AM-5:00 PM (Admission until 4:30 PM)
Closed on Wednesdays
Admission

| | General | Group (20 or more) |
| --- | --- | --- |
| Adult | 710 yen | 610 yen |
| University and High school students | 450 yen | 350 yen |
| Junior high school and elementary school students | 100 yen | 50 yen |

<Adult>
General
710 yen
Group (20 or more)
610 yen

<University and High school students>
General
450 yen
Group (20 or more)
350 yen

<Junior high school and elementary school students>
General
100 yen
Group (20 or more)
50 yen